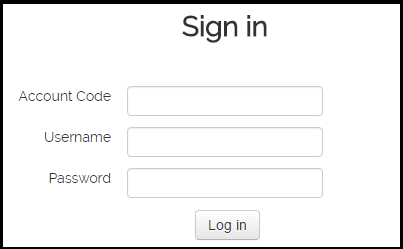 Students, Teachers, and Administrators all sign into Type to Learn from the same page. Once logged in, however, each user will be shown different information & options based on their user role.
Logging In to Type to Learn:
Go to www.typetolearn.com


Enter your Account Code.
Your account code is a unique identifier provided to your Organization Admin and should have been shared with teachers and students. Don't know your account code? Email support@sunburst.com. Want your account code to fill in automatically? Learn how.


Enter your Username (not case-sensitive) and Password (case-sensitive).
These should be provided by your admin or a teacher. Forgot your password? Admins and teachers can use the "Forgot Password" link on the login page to reset their password. Students must have their passwords changed by a teacher or admin.


Click "Log In" to sign in to your account.
Quick Tip: Auto-populate your account code for faster sign in.
Logging in with an Integration:
If you're school or district is integrated with Clever or ClassLink for single-sign-on and/or rostering, then you don't need to log in using the the above method. Click the "Log in with Clever" or "Log in with ClassLink" button on the login screen to be taken to your integration account. After signing in to the integration portal, click the Type to Learn icon to be redirected to Type to Learn and logged in.
Not integrated with Clever yet? Learn more here, or email support@sunburst.com to start the set up process.
Troubleshooting:
Invalid login, please try again.
This indicates your account code, username or password is incorrect. Solutions:
Double check your account code is entered correctly.
Make sure there are no extra spaces before or after your account code, username and password.
Double check you have the right username. Contact our support team if you need to confirm a username.
To ensure it's not an incorrect password, use the Forgot Password link or email our support team to reset your password.
Your Type to Learn account has expired.
This indicates your account has passed it's renewal date and we haven't received a subscription payment for the next year. Solutions:
If you're positive the subscription was renewed, email support@sunburst.com and let us know. If there was an error on our end we'll fix it right away.
If you're on a trial account and need more time, please email or call your account manager and ask for an extension.
If you have not submitted your subscription payment but wish to continue using Type to Learn, email or call your account manager and let us know. We can extend the expiration so you can continue using the program while the renewal process is completed.
If you do not wish to continue using Type to Learn, please email and let us know so we can close your account.
502/503 Gateway Errors
These errors can appear when too many logins are happening at once, especially if there are a lot of log ins from Clever. These errors will usually go away after a short amount of time. It's best to wait 10-15 minutes and see if they clear up on their own (you can check every few minutes). Sometimes clearing your browser cache and removing the Type to Learn cookies from your browser can help.