The Hand In feature of edredi allows students to easily turn in documents and assignments to the teacher.  Students are able to work on assignments within WPS Office and send them directly to the teacher for grading. 
How to "Hand In" Documents that have been saved to a folder on the edredi tablet:
If a document has already been saved to the tablet, students can follow these simple steps to turn in the document to the teacher:
1. Find the document to turn in on the tablet.
2. Long press on the document icon. After about three seconds, the Hand In Options will appear on the top of the screen. From this screen, students can
change the name of the file to be handed in
copy the file
delete the file
share the file
hand in the file
3. Click "ClassCloud." You will see an arrow in the notifications telling you that it is uploading.
How to "Hand In" Assignments from within WPS Office
1. When students are ready to turn in an assignment, from WPS Office, instruct them to select "Share" from the File menu at the top. 
2. From the Share menu, select File.
3. From the pop-up box, select ClassCloud: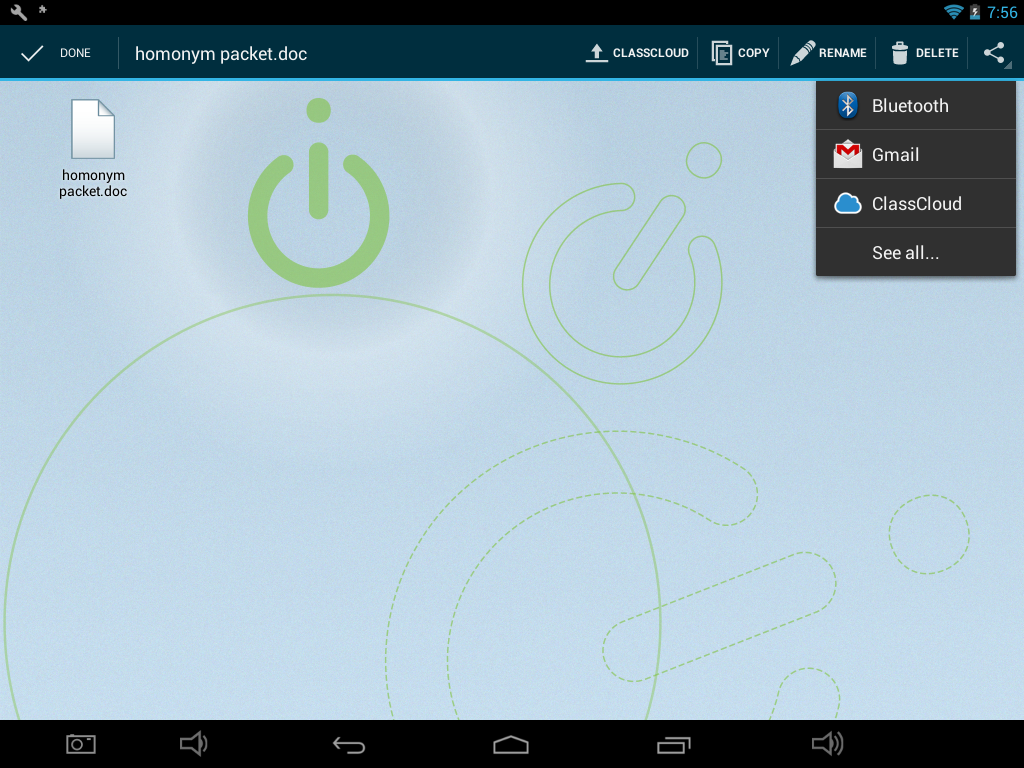 4. The next popup that appears tells you what Organization that the file is being sent to and also allows the student to rename the file before sending: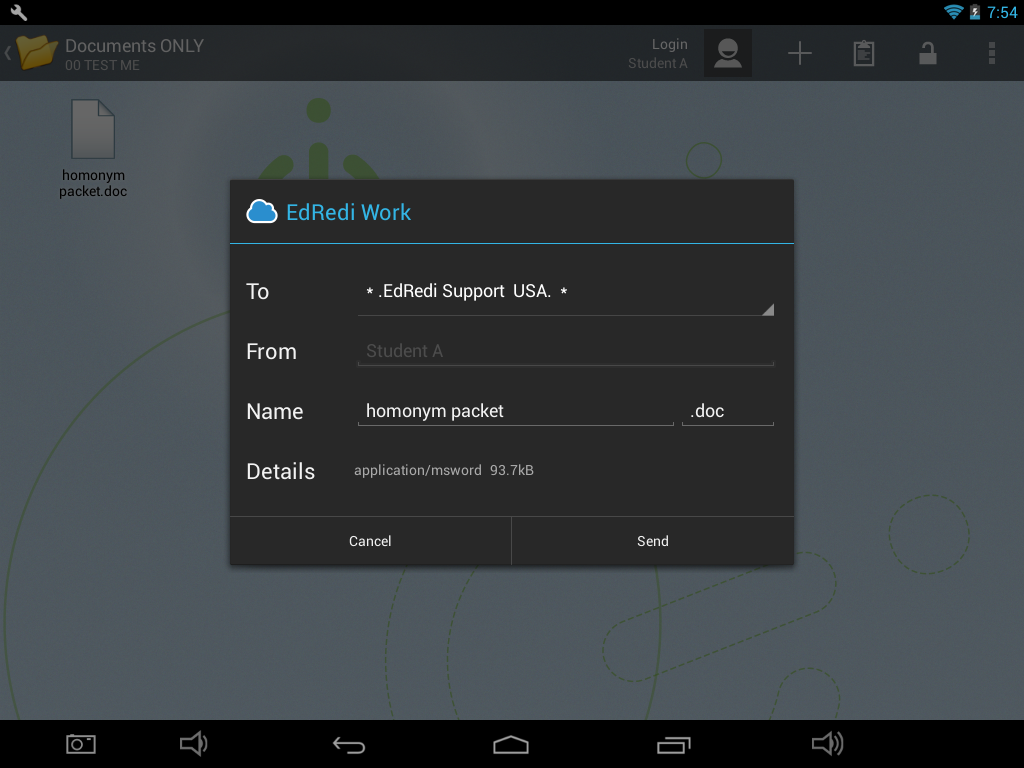 How to View Assignments that have been "Handed In"
In order for teachers to view assignments and documents that students have submitted using Hand In, there are two ways to do this:
METHOD 1 - From View
click on View then go to the Actions panel on the right,
click on Documents and then
click on Shortcut in today's work:
METHOD 2 - From Work

1. Click on Work.
2. Next, select "Hand In"
3. Click on the desired Place or Date.
4. Next, a list of all students that have handed in assignments will appear. Select the desired student account from the list.  
5. In this screen, a list of all documents handed in by that particular student will appear.
By clicking on the document, the document will download as an individual file into the computer's Downloads folder. The file can either be accessed at the bottom of the browser when it finishes downloading or it can be located in the computer's Downloads folder.
| | |
| --- | --- |
| | When attempting to view PDFs that have been edited with written notes and comments, be sure to download the PDF to the computer first and then open it in Adobe Reader on the computer. If the PDF is viewed from within the browser, the edits on the PDF may not be visible. |