Web connected devices use SSL Certificates to confirm the identity of servers they need to connect to securely.
In some cases, servers can use a certificate that hasn't been signed by a recognized certifying authority (a self-signed certificate). If such a server is known to be secure and trustworthy, it can prove more user-friendly to install the server's certificate on any devices that connect to it.
This process is known as installing a User Certificate, and prevents persistent security warnings from being shown to the user.
Prior to installing the Certificate
In order to deploy a Certificate using the edredi portal, it must be in PEM format.
For information on identifying and converting between the common certificate file types, please refer to the SSL Shopper - File Converter.
To install a User Certificate
Press the Add New Certificate link in the Action bar on the right. This will open the Add Certificate dialog.
Enter a descriptive name for the certificate in the Name field.

Click on the Add Certificate button, which will open the Certificate detail view.

Click on the pencil icon next to Certificate (in PEM format).

Copy and paste the text contents of the certificate in PEM format, including the BEGIN and END statements.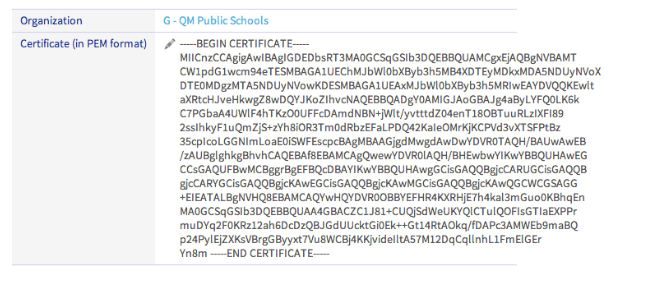 Click on the pencil icon again to save the certificate.

Once the devices in the organization have updated themselves, the new certificate can be seen on each device under Settings > Security > Trusted credentials > USER