Lessons are collections of up to six Categories. Users can edit existing Lessons or create new ones from scratch. Lessons can be customized with different names and background wallpapers to suit each classroom.
All the Lessons in the Organization can be viewed in the Lessons Management Page. To access your Lessons, click the 3-barred, then select Lessons. 
Once Resources have been added and placed in Categories, a new Lesson can be created or an existing Lesson can be edited. Follow the respective steps for each one. 
ADDING A NEW LESSON
To add a new Lesson, complete the following steps. 
Click Actions in the blue panel on the right.
Select Add New Lesson.This will open the Add Lesson window.
Enter the name of the Lesson. 
Click the Add Lesson button, and the Lesson editing page will appear.
 EDITING A LESSON
The Lesson editing page shows roughly how the Lesson will look on the tablet. The name of a Lesson can be edited by clicking on the title above the tablet image (note the Pencil icon next to the title).
Additional properties can also be edited, like changing the wallpaper using Edit found in the menu on the right.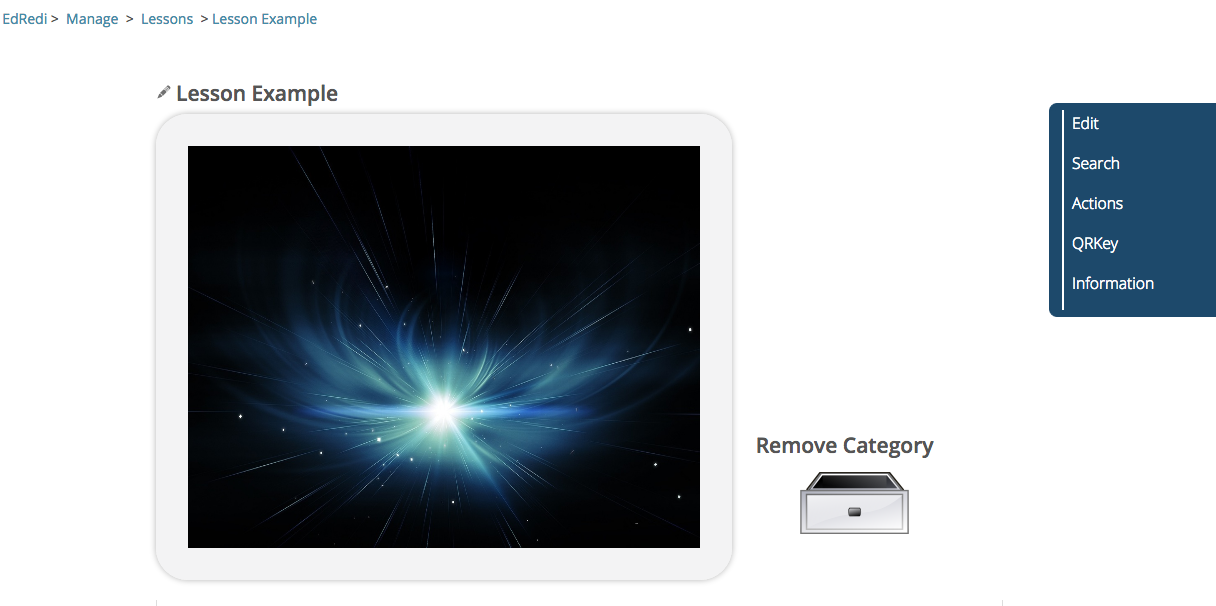 ADDING CATEGORIES
Below the tablet image is a list of Categories that have been added to the organization. To add any of these to the Lesson, simply drag them onto the tablet image or double-click them. 
REMOVING CATEGORIES
Categories can be removed from the Lesson by dragging them to the Drawer or by double-clicking them. Categories can also be re-ordered by dragging them around on the "tablet" image.