Everyone has an organization that is a child of a much larger organization, referred to as a Parent Organization. Because of this, there is also access to the Parent Organization's content. When content is "selected" from another organization in general, one is able to:
bring that Lesson into one's own Organization and use it, but the content cannot be edited.
receive updates for that lesson whenever it's original organization makes changes.
For this article, a Lesson will be used as an example, but this process can also apply to Categories and Resources.
In order to "select" content, do the following steps:
1.   In the edredi portal, please click on the Organization Name found in the top righthand corner of the page.
2.   Once in the Organization's Properties Page, locate the "Parent" field and click on the Parent Organization's name. if this is not the Parent Organization originally desired, wait until the Parent Organization's Properties Page appears and click on the Parent Name for that one. Repeat until the Properties Page for the desired Parent Organization appears.

3.   Once in the Properties Page for the desired Parent Organization, look towards the bottom. Small arrows pointing to "Lessons", "Categories" and "Resources" will be available. Please click on the arrow for "Lessons".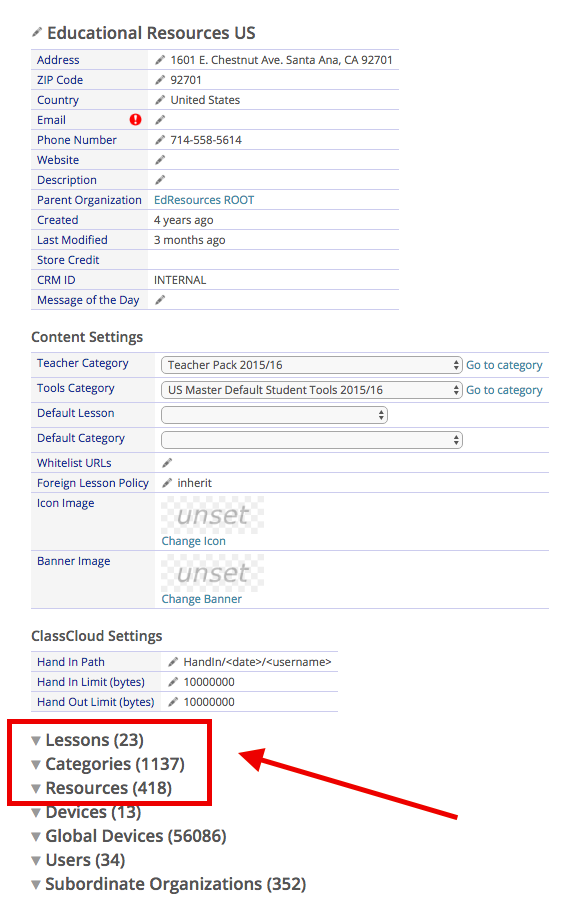 4.   The Lessons that are available, will roll down. Choose a Lesson to "select".
5.   Once the Lesson is open, look to the panel on the right where it says Actions.  Click on Actions, and more options will slide out, including an empty star with the word Select next to it. Click this star to select the Lesson.
6.   After clicking on the star, it should turn to gold to indicate the Lesson has been selected.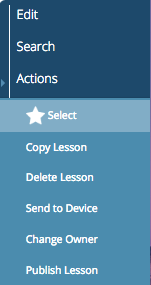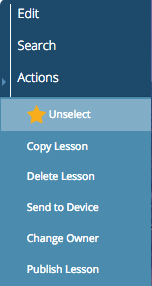 7.   Now click on the 3-barred icon at the top and select "Lessons".
8.   In the Lessons Management Page, there are sections labelled "Added by [YourOrganizationName]" and "Selected by [YourOrganizationName]". Scroll down to "Selected By...".
9.   The Lesson selected is now available for scanning or pushing to the student's device.  
NOTE: Again, this same procedure applies to selecting Categories and Resources as well.
 Selecting content is a powerful edredi function in providing access to standardized, exemplary lessons. For example, the teacher can create and provide such non-editable Lessons at the district or school level to be selected and shared by teachers from any school, team or department. This would ensure consistency in high-quality Lessons across the district.